Home > Departments > RSR Human Service Zone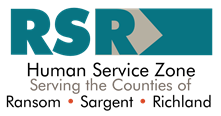 RSR Human Services Zone is committed to providing quality, efficient and effective programs, which improve the lives of the residents of Ransom, Sargent, & Richland Counties. (Formerly County Social Services)
Local offices in Lisbon, Forman and Wahpeton administer the following program areas:
Economic Assistance
Fuel Assistance – Low Income Energy Assistance (LIHEAP)
TANF-Temporary Assistance for Needy Families
Medical Assistance
Food Assistance (SNAP)
Child Care Assistance
Child Welfare Services
Child Protection Assessments
In Home Case Management
Foster Care Case Management
Foster Care Licensing - If you are interested in learning more about becoming a licensed foster home, please reach out to one of the following for more information:
a. Children and Family Services Training Center (CFSTC)
b. Phone: 1-833-FST-HOME (1-833-378-4663)
c. Online Link: https://www.nd.gov/dhs/services/childfamily/fostercare/care-in-nd.html
Child Protection Intake — To report child abuse or neglect, call: 1-833-958-3500 Monday-Friday 8:00-4:30 PM; or report to local law enforcement after hours.
Qualified Service Provider for Home and Community Based Services for the elderly & disabled.
Homemaker
Respite Care
Personal Care
Companionship
Childcare Licensing is required for anyone providing care to more than 5 children or more than 3 infants under 2 years of age. Licensed providers can participate in the Child Care Assistance Program, if they care for children who qualify, and the USDA Food Program. For more information or if interested in becoming a licensed provider please visit https://www.nd.gov/dhs/services/childcare/. Parents seeking licensed childcare can access information regarding local providers by accessing the Find Child Care link on the Child Care Aware of North Dakota website at: http://www.ndchildcare.org
The Aging & Disability Resource LINK provides current information on opportunities and services available statewide and nationwide, and connects individuals to services to help them maintain or improve quality of life.
Contact ND ADRL at 1-855-462-5465 or visit www.carechoice.nd.assistguide.net for more information.
Exploited & Vulnerable Adult Reporting: To File a Vulnerable Adult Report online Complete Report Form or call 1.855.462.5465 Option 2.
NON DISCRIMINATION POLICY
RSR Human Service Zone makes available all services and assistance without regard to race, color, religion, national origin, age, sex, political beliefs or affiliations, disability or status with respect to marriage or public assistance in accordance with Title VI of the Civil Rights Act of 1964, Section 504 of the Rehabilitation Act of 1973, the Age Discrimination Act of 1975, the Americans with Disabilities Act of 1990, and the North Dakota Human Rights Act of 1983. If you believe you have been discriminated against, you may file a written complaint with the Ransom County Social Service Office; the North Dakota Department of Human Services Office for Civil Rights, 600 E Boulevard Ave., Dept. 325, Bismarck, ND 58505; or the Office of Civil Rights, Department of Health and Human Services, Federal Office Building, 1961 Stout St., Denver, CO 80294.