Home > Departments > Silver Lake Recreation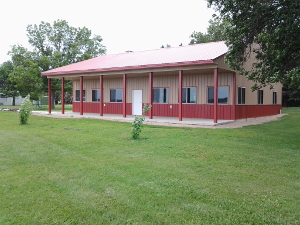 Silver Lake is a public park owned by Sargent County.They offer 86 RV/Tent campsites, 55 with electric & water hookups, 14 seasonal sites and 17+ primitive camping areas on 100 acres with bathroom/showers. 3 RV/trailer portable disposal services are available. Picnic tables and fire rings are available. There is a Frisbee golf course on the south side of the lake with ATV trails, volleyball courts, boat landings, beaches and playplaces on both the North and South sides of the lake.
Rates are $10 per night for tents and $25 per night for RV's. A weekly rate of $100 for RV's and $50 for tents is also available. A monthly rate of $400 for RV's is available as well. The primitive area rates are $15 per night for RV's and $10 per night for tents. RV/trailer portable disposal service is available. No reservations accepted.
Leisure activities include: Beach, swimming, boating, boat ramp, waterskiing, volleyball, fishing, and picnicing.
This facility officially opens yearly from May 1st - October 1st.
Pavilion available for rent $100/day ($100 deposit). Call 701-724-6241 ext. 1 for reservations.
If you are looking for a relaxing place then visit us at Silver Lake. We have something for everyone!
The 100 acre park is located 4 1/2 miles south, 3 miles east and 1/2 mile south of Forman or 3 miles west & 1 1/2 miles south of Rutland.
SILVER LAKE SEASONAL RENTER RULES (PDF)
SILVER LAKE PARK REGULATIONS (PDF)
Julie Colemer, Forman
Scott Christianson, Forman
Sue Seelye, Manager | Phone: 701-640-8416
Jason Arth, County Commissioner
14896 86 St SE, Lidgerwood, ND, 58053
Phone: 701-680-2685 • Email: arthja@outlook.com
Lyle Bopp, County Commissioner
PO Box 125, Forman, ND 58032
Phone: 701-724-3366 • Email: lbopp@nd.gov
Mark Breker, County Commissioner
114104 96th ST SE, Rutland ND 58060
Phone: 701-724-6474 • Email: mleroy@drtel.net
Wade Anderson, County Commissioner
13545 101st St SE, Havana, ND 58043
Phone: 701-724-6498 • Email: jwa@drtel.net
Scott Johnson, County Commissioner
8292 128 Ave SE, Gwinner, ND 58040
Phone: 701-678-3521 • Email: johnsonscott@nd.gov